Our living room may end up being our only space for dining in our apartment, so one challenge we are going to have is how to have a place to dine in our living room
Before having kids, we once spent a year living in a tiny apartment with no place to dine, and we would sit on cushions on the floor and eat at our coffee table. I don't mind eating like that as a general rule. It's a Japanese dining style, right?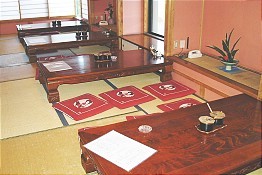 But I do have some concerns about whether the kids will be unhappy about the change.
Another consideration I have is that a table can double really nicely for a counter. Tables make productive workspaces when not allowed to get cluttered with other stuff as our dining table does in our current home.
The other day I found myself looking at this piece, sold at
Bob's Discount Furniture
:
It can't seat a big crowd but can seat four, and I really like how easily the leaves drop and then get propped up again:
I think (??) the whole set, including chairs is $200, which we could probably swing if we made it a savings priority over the spring (did I mention we are downsizing with no money to do it?).
What I don't like is that it is dull. From a design standpoint, it doesn't make me say, "oh, I love that table!" But I might be willing to live with that. I can imagine the table between meals, leaves down, against a wall in the living room with a nice cloth runner and some pretty flowers to bring some of the outside in.
On the other hand, what would make me like it even more would be if the same design had a table surface that could double as a cutting board, so as to free us from having to store cutting boards. It's too bad marble, granite, etc. is so heavy, as I think people don't see it as drop-leaf material. The below, also from
Bob's Discount Furniture
, isn't my style, nor would it seat four very well, but it would be a great counter-table double.
It's too bad IKEA doesn't have a better website.